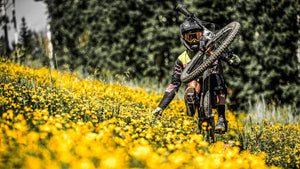 Born In California
Railias started in 2020 by riders passionate about everything action sports. California dirt runs through our veins.
Founder of Railias
Casey Chambers
Hello and welcome to the Railias Family!
What gave you the idea for (what you do/your company)? How did it start?
A friend and I were prepping our bikes on the side of the road before a ride with one bike leaning against the truck and the other flipped upside down in the dirt. Man, we were missing our full size floor repair stand. We never brought it because it wasn't easy to pack up, nor fit it into the truck. In that moment, we knew we wanted to turn our tailgate into a bike workstation. Then, we thought, what else do we want to connect to the system?
What's your favorite thing about your chosen profession?
Creation through problem solving has always been a meaningful way of bringing joy in my life. The allure and adventure of each new project offers a thrill much like ripping down a new trail for the first time.
What are your favorite things to do outside of work?
I love action sports, and I've never been married to just one. I also love sharing these activities with my family and friends. We ride mountain bikes, dirtbikes, rock climb, surf, ski, and just generally get outside constantly.