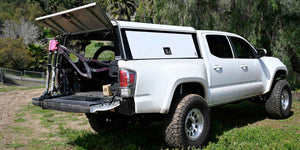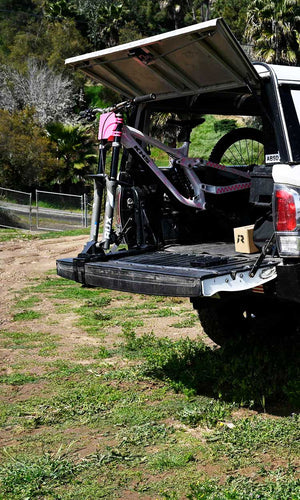 DESIGNED FOR THE MOST RUGGED TRUCKS
RAILIAS Tailgate mount SYSTEM
2x Womens USA Downhill Champ
KAILEY SKELTON
Queen of the Mountain and Railias Pro Racing Team member, Kailey Skelton knows about speed. She is a demon on the trail and an all around badass biker, so naturally she knows how fast and simple it is to add the Railias Tailgate Mount System to any pickup. Her adventure rig packs all the tools and essential gear that put her on the podium each week. So, of course she only trusts Railias to transport her race bikes. Even with her custom campershell installed over her truckbed for overland adventures, Kailey is able to transport her bikes with ease.
"With Railias I know my bike is getting to the starting line in winning condition." -Kailey
Tool free tailgate MOUNT SOLUTION
The Railias Tailgate Mount System features the Railias SportRail as the foundation for your bike transport needs. Securely mount a bike to the rail using the Modular Fork Mount, and attach a Brick at home for easy bike storage. The SportRail quickly converts campershells and custom overland truck builds to become fully ready for bike storage and transport needs.
Railias Black Friday Sale starts now! Biggest discounts of the year are available for a limited time, act now! Get a Tailgate Rack system for OVER HALF OFF today!