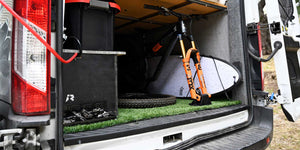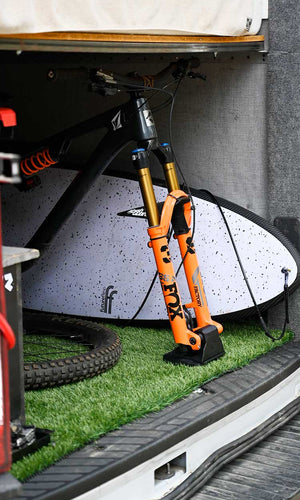 DESIGNED FOR THE MOST RUGGED VANS
RAILIAS FIxed mount SYSTEM
2x Mens USA Downhill Champ
Nik Nestoroff
A master of the trail and member of the Railias Pro Racing Team, Nik Nestoroff relies on the Railias Fixed Mount System in his adventure van to easily store his trophy-winning bikes securely for the long days traveling between stops on the MTB race circuit. Railias Bricks and Modular Fork Mounts allow Nik to tuck his bike away neatly under his sleeping space freeing up more room to relax and rest during a grueling race season. Nik has also added a Brick to the back door to create a convenient mounting location for his Railias Parasol, making a convenient space to enjoy a shady seat to cool off after a hard ride in the desert.
"After trying Railias, I can't think of getting to my race any other way. It's super easy, secure, and looks rad." - Nik
Fixed MOUNT SYSTEM
Create a low-profile, vesatile, and modular fixed mounting point to your vehicle by mounting Railias Bricks with included screws, or use the L-Track Adapter for drill-free installations on existing L-track channels. All current and future Railias attachments are compatible with Bricks, so you can create a custom storage solution that fits your adventure lifestyle.
Take advantage of our biggest discounts of the year. Black Friday Sale is Live!